Unsimply Soba:
Comics & Competition in Japanese History
Think you can eat 50 bowls of noodles? What about 100? This week, The Feast explores the tradition of wanko soba from Iwate, Japan, where families and friends compete to see who can slurp the most noodles in a single sitting. But what makes soba, or buckwheat, the preferred noodle for this centuries-old food contest? We'll dig into the celebrated history of food competitions in pre-modern Japan where writers depicted epic battles waged amongst favorite foods. Forget tiger versus shark; what about steamed eggplant versus shrimp tempura? From these early fanciful food battles, we trace a line to modern food manga, an ever-growing Japanese comic book genre that has inspired some of the most popular food shows on television today. Iron Chef, anyone? Join us as we talk about the serious business of noodle-slurping with food scholars Dr. Greg de St. Maurice, Dr. Eric Rath, and Dr. Lorie Brau on this history-packed soba seminar.
Written and Produced by Laura Carlson
Technical Direction by Mike Portt
Special Guests: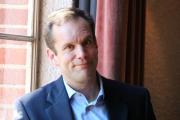 A specialist in premodern Japanese cultural history, Professor Eric C. Rath's research ranges from the traditional Japanese performing arts, especially the 600-year old masked noh drama, to dietary culture particularly the origins of Japanese cuisine, regional foodways, sake, confectionery, and tobacco use. His research illuminates patterns of daily consumption as well as the moments when food takes on symbolic meanings such as through the artistry of the chef, use in ritual, and by references to local terroir and literary culture. His work includes:
Japan's Cuisines: Food, Place, and Identity. Reaktion Books, 2016.
Food and Fantasy in Early Modern Japan. University of California Press, 2010.
Greg de St. Maurice is a cultural anthropologist specializing in taste, culinary heritage, Japanese cuisine, "place," sensory ethnography, and globalization. He earned his PhD in Cultural Anthropology from the University of Pittsburgh in 2015. He is Vice President of the Association for the Study of Food and Society (ASFS). He is currently a post-doctoral fellow at the Culinaria Research Centre at the University of Toronto: Scarborough and Air Liquide Chair at the Fondation France-Japon of the École des Hautes Études en Sciences Sociales.
Iwate's Wanko Soba: The Epic Noodle Contest
Iwate Prefecture in northern Japan has become legendary for its tradition of wanko soba, or competitive soba noodle eating. Available at several restaurants in the area, diners compete in groups to down as many bowls of soba (buckwheat) noodles as possible. For the extra dedicated, the region even holds an annual competition, held every November, which pits serious noodle eaters against one another. Check out the video below to see highlights from the 2013 Tournament.
Become a "Soba Sommelier"!
Thanks to a recent renewed interest in the history and craft of soba noodles, one business in Japan is offering people the chance to become expert connoisseurs of the noble buckwheat. This multi-part course provides instruction on how to make, cook, and eat soba noodles, as well as how to process the choose the best buckwheat, what pairs well with soba dishes, and, of course, more noodles than you know what to do with. Unfortunately, it seems that lessons are only provided in Japanese, so brush up on your language skills and you too could become one of the few "sobaliers"!
Looking for more on Japanese Food Manga?
Check out the Kitchen Sisters' excellent episode "War and Food and Manga" for more on the cultural history of food in Japanese comic books throughout the 20th and 21st centuries.
Episode Soundtrack