A Mythic Meal
A Very Special Season Finale with The Curated Feast
On this very special season finale, we've teamed up with Liz Birnbaum and The Curated Feast to bring you a mythic meal that'll take you from the roots to the stars. Join Liz and her guests at a secret underground location near Santa Cruz, California as they dine on food fit for the gods. We'll explore how food played an integral role in ancient folklore, representing cycles of birth, death, and renewal. Why did the ancient Egyptians associate barley with Osiris? Why did pomegranates confine Persephone to the Greek underworld? All these answers and more on this very special underground edition of The Feast.
Event Concept & Organization by Liz Birnbaum (The Curated Feast)
Recipes by Hedy Nochimson (Plate & Bottle Supper Club & Catering)
Music by Carl Atilano (www.carlatilano.com)
Photography by Kyle Murphy of KNM Portraits (www.knmportraits.com)
Written & Produced by Laura Carlson
Technical Direction by Mike Portt
More About Our Special Guest: Liz Birnbaum
As an outgrowth of her interests in collaborating with chefs, florists, and historians, and her love of entertaining curious friends with surprising facts and anecdotes about food, Liz founded the Curated Feast in Summer 2015.
In her nearly decade-long career in food, she has also organized the oldest and largest sustainable agriculture conference in the West (the EcoFarm Conference), traveled to Italy as a U.S. delegate for Slow Food (to Terra Madre and Salone del Gusto), interviewed farmers coast-to-coast, and now, in addition to working at the Organic Farming Research Foundation by day, she has turned a party trick into a business (Curated Feast). Liz has co-taught college courses on biodiversity and agriculture, botanical imperialism, and food geography. She has also curated more than a dozen exhibits, briefly co-owned a gallery, and founded a museum. Liz has been encouraged to explore the world since before she can remember, so that is what she continues to do.
More About The Curated Feast
Founded by Liz Birnbaum, The Curated Feast explores the world — traveling through time and space to uncover the hidden histories and mythologies of the foods we eat. We partner with chefs to curate these stories into a unique dining experience. Each feast is a delicious opportunity to learn more about the world through the lens of food. Learn more & find an upcoming event at www.thecuratedfeast.org
The Underground Feast: From Roots to the Stars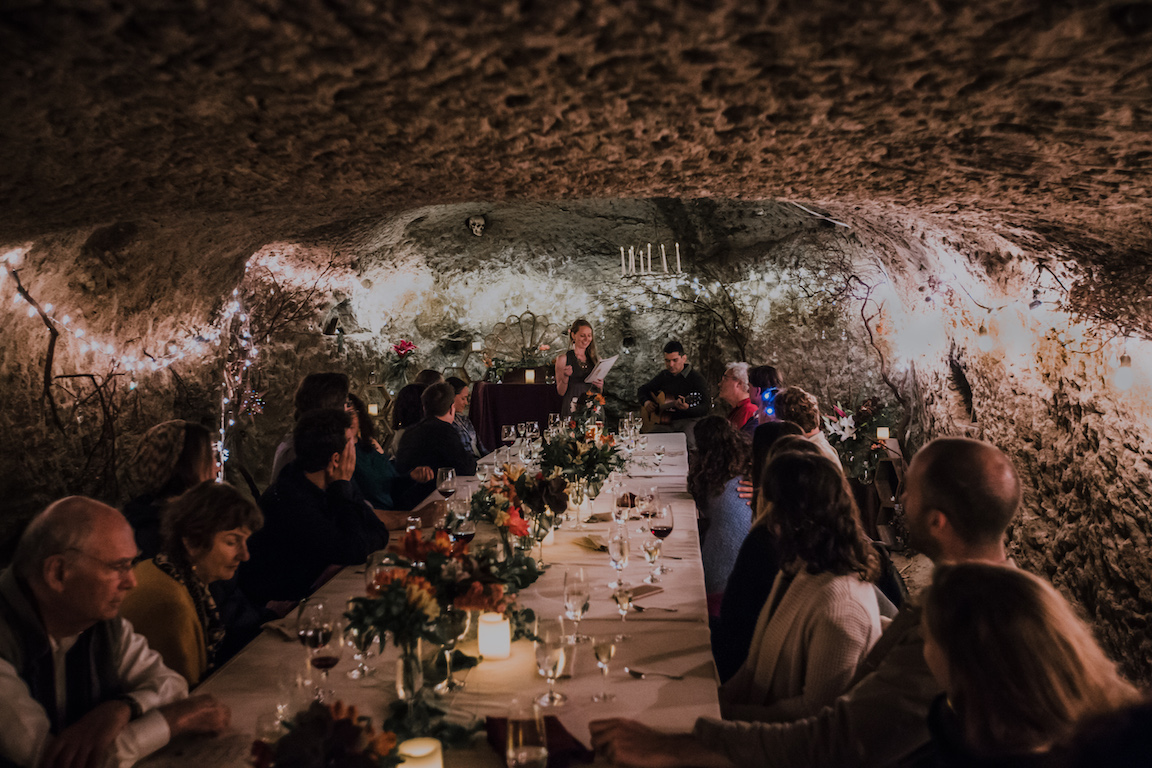 Recipes from the Underground
Chef Hedy Nochimson of Plate & Bottle Supper Club & Catering provided the culinary inspiration for the Underground Feast in May 2017. While you may or may not have a cave handy, you can still make and enjoy a sampling of this mythic meal.
Onion Ash (taken from Course Two: Ashes)
1 plus 3/4 cup Canola Oil
1 lb Yellow Onions, peeled and sliced thinly using a mandoline slicer
Heat canola oil in a large pot. Add onions and cook on medium high heat for about seven minutes, stirring often. Lower the heat and continue to cook until onions turn black.
Drain the onion oil and reserve for another use. Let onions sit on a paper towel for about 5 minutes to drain excess oil.
Place onion in a food processor and grind to ash.
Use to accent soups, meat, salads with a smoky onion flavor.
Charred Cabbage (taken from Course Two: Ashes)
Canola Oil
1/2 Green Cabbage, slices rinsed and tougher outer leaves removed
1/4cup unsalted butter
Slice cabbage into 3/4".
Add 2 Tbsp canola oil to a large nonstick pan and heat on high heat. Place enough cabbage slices in the pan so that all lay flat in the pan.
Continue to cook and char the cabbage 10 minutes (without moving the cabbage slices).
Add 1/4 cup butter to the pan. Reduce heat to medium. As soon as the butter has melted, tilt the pan to collect butter and generously baste the cabbage with the hot butter. Continue to baste every few minutes until cabbage is soft when pierced (about 15 minutes although slices with the core may take longer).
Sprinkle lightly with salt to taste and remove from the pan to serve.
Hedy Nochimson
After working for 20 years as a software engineer in the high tech industry, Hedy retired and began to pursue a second career in culinary arts. Chef Hedy worked in the kitchens of some storied Bay Area and Santa Cruz chefs before launching her own business in 2013. Plate & Bottle specializes in small events catering and the "Pop Up" dinner – inspired dining events in a supper club format. Growing up in a Hungarian family, her creative process is often inspired by her roots, as well as travel, nature and the desire to learn cutting edge techniques and new ways to present food. Her vision is to celebrate seasonal flavor, intensity and balance using quality ingredients while striving to think out of the box.